Electric Boys were formed 1988 in Stockholm, Sweden and released their critically acclaimed debut Funk-O-Metal Carpet Ride 1989. It was released internationally about a year later, including five new songs produced by monster producer Bob Rock (Metallica and Mötley Crüe).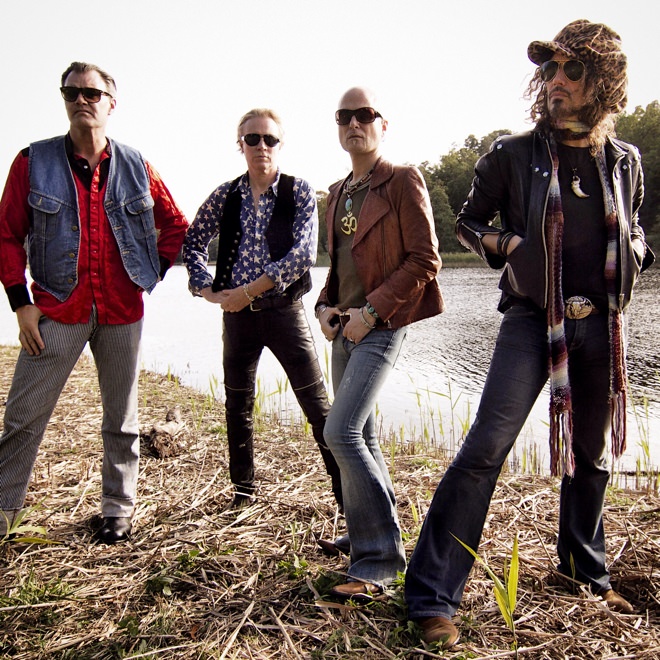 Electric Boys toured tenaciously in Europe and in the U.S. while the song "All Lips N' Hips" hit the Billboard chart and was played on heavy rotation on MTV.
The follow up, Groovus Maximus was released in 1992 with the single "Mary In The Mystery World" being a radio hit. The album was recorded in the legendary "Beatles studio" Abbey Road in London and the band continued touring mainly in the U.S.A., Great Britain and Sweden.
In 1994, the harder rocking album Freewheelin' was released with 2 new members, "Slim" Martin Thomander and Thomas Broman. The band dissolved after a sold out farewell concert in their hometown Stockholm.
After four years of playing with legendary rockers Hanoi Rocks, Conny Bloom and Andy Christell decided to reunite Electric Boys, with the original line-up, in the beginning of 2009.
The band stuck to their unique blend of riffs, groove and psychedelia, and in 2010 they recorded their comeback album "And Them Boys Done Swang", released 2011.
In 2014, Electric Boys recorded their most recent album Starflight United, available worldwide.
Past tours and support slots includes shows with Metallica, Alice Cooper, Mr, Big, Hardline, Vixen, Thunder and many more.
Electric Boys are currently working on their 6th album.
Electric Boys are:
Conny Bloom (guitar and vocals)
Andy Christell (bass)
Franco Santunione (guitar)
Niclas Sigevall (drums)
Jolle Atlagic (drums)
Press inqueries
Sven Isaksson
Sven's Management
sven.isaksson@me.com